No time to keep up social media? Sofco Online Social Media keeps in touch with your followers.
Sofco Online Social Media is available from € 0,80 per day.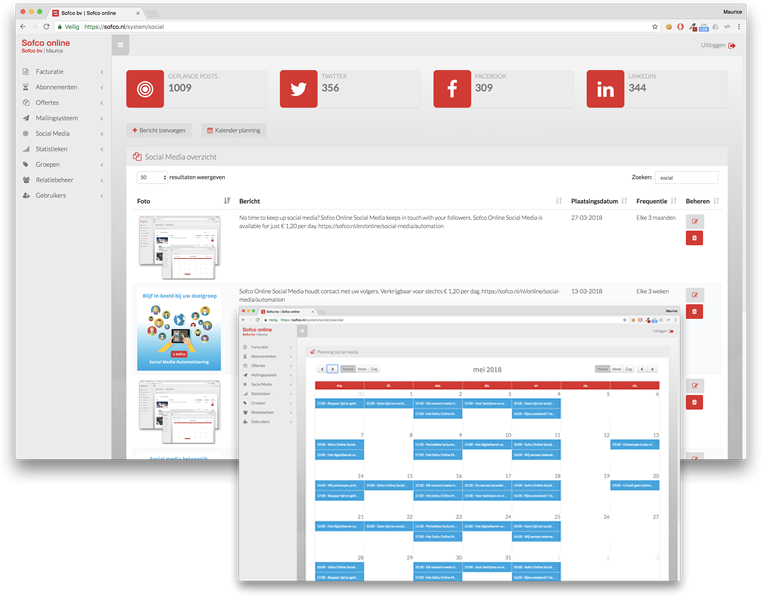 Sofco Online Social Media
Cloud computing
Manage your social media from your pc, tablet or smartphone.
Social media planning
Plan your posts for the whole year and (possibly) for the coming year. You have access to a calendar that clearly shows you when and which messages are planed.
On the most popular social media platforms
Post your messages on Facebook, Twitter or Linkedin. Per message you can determine what social media platform you prefer for your message.
The power of repetition
Let your posts regularly repeat. The power of repetition is fine, providing a perfectly on your followers deliver customized message and follow-up!
A higher ranking at Google
Posting a link to your website helps you rank your website higher on search engines. Link building is the most important factor in ranking to Google. Social media platforms have a very high ranking which is an additional positive contribution on the ranking of your website.
Benefits
You will save a lot of time and money
You can leave your message on exact moments plans
Your followers are continuously getriggert
You can make a strategic planning
You have more time left for things you love to do
View the frequently-asked-questions
Solutions for freelancers