SSL Certificaten
Beveilig uw site en krijg het vertrouwen van uw bezoekers
Kies uw validatieniveau
Domeinvalidatie (DV)

Basis Beveiliging
Uitgegeven in minuten, ideaal voor blogs, sociale media en persoonlijke websites
Bestellen
Organisatie Validatie (OV)

Strong business level SSL
Bedrijfsidentiteit opgenomen in certificaat, ideaal voor zakelijke websites
Bestellen
Extended Validation (EV)

Maximale bescherming/vertrouwen
Groene adresbalk en bedrijfsnaam weergegeven, ideaal voor e-commerce
Bestellen
Wat is SSL?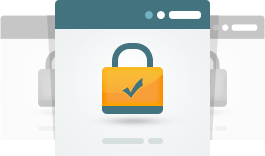 SSL-certificaten zijn essentieel voor internetbeveiliging. Ze worden gebruikt om een ​​gecodeerde verbinding tot stand te brengen en gegevens veilig te verzenden tussen een browser of computer van een gebruiker en een server of website.
Brengt een veilige verbinding tot stand tussen een browser en een server
Versleutelt gevoelige informatie die uw klanten aan u verstrekken
Plaatst een hangslot naast uw webadres in de browser
Verifieert de identiteit van een organisatie
Standard SSL (Domain Validated) Certificaten zijn het eenvoudigste en meest gebruikte type SSL-certificaat. OV and EV Certificates verifieert ook de identiteit van het bedrijf of de organisatie die het certificaat heeft en geef meer vertrouwen aan eindgebruikers.
Verbeter uw zoekmachine ranking
Zorg voor vertrouwen en online beveiliging voor bezoekers en bedrijven van uw website.
Google wil het internet veiliger maken en een groot deel daarvan is ervoor zorgen dat de sites die mensen toegang hebben via Google veilig zijn. Dat is de reden waarom websites die SSL gebruiken, hebben geprofiteerd van een hogere ranking in zoekresultaten.
Er zijn ook veel meer redenen om SSL aan uw website toe te voegen:
Versleutelde gevoelige gegevens
Bescherm de privacy van gebruikers
Veilige online transacties
Activeer HTTPS en het slotpictogram
Bewijs legitimiteit
Verhoog de SEO-ranking
Browsers zijn veranderd, blijf niet achter


Webpagina's die niet via HTTPS worden weergegeven, worden nu weergegeven als 'niet beveiligd' in
Google Chrome
en
Mozilla Firefox
. Laat uw website niet een van hen zijn. Voeg SSL vandaag toe.
Upgrade met ons en krijg een extra 12 maanden gratis.
Meer info »
Upgrade naar Extended Validation SSL
Hoewel alle SSL-certificaten vergelijkbare methoden gebruiken om uw gegevens te beschermen en te valideren, varieert het niveau van vertrouwen en bewering dat ze bieden.
Extended Validation Certificates bieden het hoogste niveau van validatie en vertrouwen. Ze valideren en tonen de naam van het bedrijf of de organisatie samen met de groene adresbalk, een van de meest herkenbare vertrouwensindicatoren op internet.
RapidSSL

RapidSSL® Certificates help you keep your customers' transactions secure with up to 256-bit data encryption and site authentication. Buy a certificate and speed through enrollment with automated domain control validation. Best of all, our SSL certificates are among the most affordable in the industry. We keep our costs down and pass the savings on to you.

GeoTrust QuickSSL Premium

Secure your website fast. GeoTrust® QuickSSL® Premium certificates are one of the quickest ways for you to start protecting online transactions and applications with SSL. With an automatic authentication and issuance process, it takes just minutes to get your QuickSSL Premium SSL certificate. After that, managing and renewing your certificates is a snap. With GeoTrust, you get inexpensive SSL without sacrificing convenience, choice, or reliability.

GeoTrust True BusinessID

Business-class SSL—only better. When it comes to selecting SSL security for your business, you have a lot of choices. With GeoTrust, the decision is easy. GeoTrust® True BusinessID SSL certificates let your customers know that your site is trustworthy and that you take their security seriously enough to get your certificate from a globally trusted certificate authority.

Symantec Secure Site

Get cost-effective protection and industry defining strength. From the first name in security.Protect your non-transactional and/or internal sites with up to 256-bit encryption. Without spending any more than you have to.

Symantec Secure Site Pro

Strengthen your entire site's security with ECC encryption and proactive vulnerability assessment. Protect your transactions, data and communications with ECC, RSA and DSA algorithms for the strongest encryption you can get.

GeoTrust True Business ID with EV

Make a strong security statement with the green address bar. GeoTrust® True BusinessID with EV (Extended Validation) is our premium business-class SSL security product, visually confirming the highest level of authentication available among SSL certificates. The green bar says it all. Web site visitors really notice when the address bar turns green in their high-security browsers and the organization field starts to rotate between your business name and GeoTrust.

Symantec Secure Site EV

Add the power of assurance to your sites and security, with visual reminders that every second of every visit is protected. Give your visitors visual assurance that their transactions are protected with RSA and DSA algorithms. All with one certificate.

Symantec Secure Site Pro EV

Combine the most advanced encryption algorithm with visual assurance cues, for confidence without question. Protect your customers with up to 256-bit encryption and 3 algorithms—while providing visual proof that they're really on your site.

RapidSSL Wildcard

RapidSSL® Wildcard Certificates help you secure multiple subdomains with one low-cost SSL certificate issued to *.yourdomain.com. Protect your customers' personal data with up to 256-bit encryption. Automated domain control validation makes site authentication a breeze. At RapidSSL, we believe in providing the SSL protection you need at a competitive price.

GeoTrust QuickSSL Premium Wildcard

Secure your domain and all same level subdomains fast. GeoTrust QuickSSL Premium Wildcard certificates are one of the quickest ways to start protecting all your subdomains on a single certificate. Our automated email authentication process means you get your certificate in minutes. With QuickSSL Premium wildcard certificates, you get unlimited subdomains and on an unlimited number of servers - one certificate that will adapt as your business grows.

GeoTrust True Business ID Wildcard

Simplify certificate management with the convenience of a Wildcard certificate. GeoTrust® True BusinessID Wildcard certificates allow you to secure multiple subdomains on a single certificate, reducing management time and cost. Whether it's your company's home page or your mail server's hostname, protecting sensitive information is your goal — and it's our goal too.
Wat is een SSL-certificaat?
SSL-certificaten maken gegevenscodering op het internet mogelijk en zorgen ervoor dat gegevens veilig van een webserver naar een browser kunnen worden verzonden. Met SSL kan uw website het https-protocol gebruiken en een hangslot weergeven in webbrowsers van eindgebruikers om aan te geven dat de verbinding veilig is.
Waarom heb ik een SSL-certificaat nodig?
SSL-certificaten zijn een essentieel onderdeel van internet. Ze coderen niet alleen de communicatie tussen uw computer en de server waarop een website zich bevindt, maar ze bieden ook verificatie dat een site is wat hij beweert te zijn.
Wat zijn de verschillende soorten SSL?
Er zijn 3 verschillende beveiligingsniveaus waarop SSL-certificaten zijn gebaseerd. Domein gevalideerd (DV), organisatie gevalideerd (OV) en uitgebreide validatie (EV). Het belangrijkste verschil tussen de soorten certificaten heeft betrekking op de informatie die de certificeringsinstantie, RapidSSL, GeoTrust en Symantec nodig heeft en valideert om een ​​certificaat af te geven. De hogere niveaus van certificaat vereisen meer informatie en worden vaak weergegeven in de browserbalk. EV SSL maakt bijvoorbeeld de browserbalk groen en toont de organisatienaam aan bezoekers om meer vertrouwen te genereren.
Wat is een Wildcard SSL-certificaat
Een Wildcard SSL-certificaat biedt dezelfde coderings- en authenticatiefuncties als andere SSL-certificaten, maar kan ook worden toegepast op een onbeperkt aantal subdomeinen van een website. Een Wildcard SSL-certificaat ondersteunt het hoofddomein (example.com) en de bijbehorende subdomeinen. Learn more
Wat zijn de voordelen van een EV SSL-certificaat?
EV of Extended Validation is de hoogste klasse SSL die tegenwoordig beschikbaar is en geeft meer geloofwaardigheid en vertrouwen aan uw website dan andere SSL-certificaten. Ze bevatten functies zoals de groene adresbalk en weergave van uw bedrijfsnaam waarvan is bewezen dat ze het vertrouwen en het vertrouwen van de consument vergroten.
Wat als ik al een SSL-certificaat heb?
U kunt op elk moment naar ons overschakelen. We bieden zeer concurrerende prijzen en als u al een bestaand certificaat hebt, voegen we de resterende geldigheid die u hebt aan uw bestaande SSL-certificaat van een concurrent toe tot een maximum van nog eens 12 maanden. Learn more
Onze SSL-certificaten zijn afkomstig van enkele van de meest vertrouwde merken in Online Security.