Total freedom and unlimited expansion of your website is within reach
Discover Sofco CMS 2.0, the new maintenance system from Sofco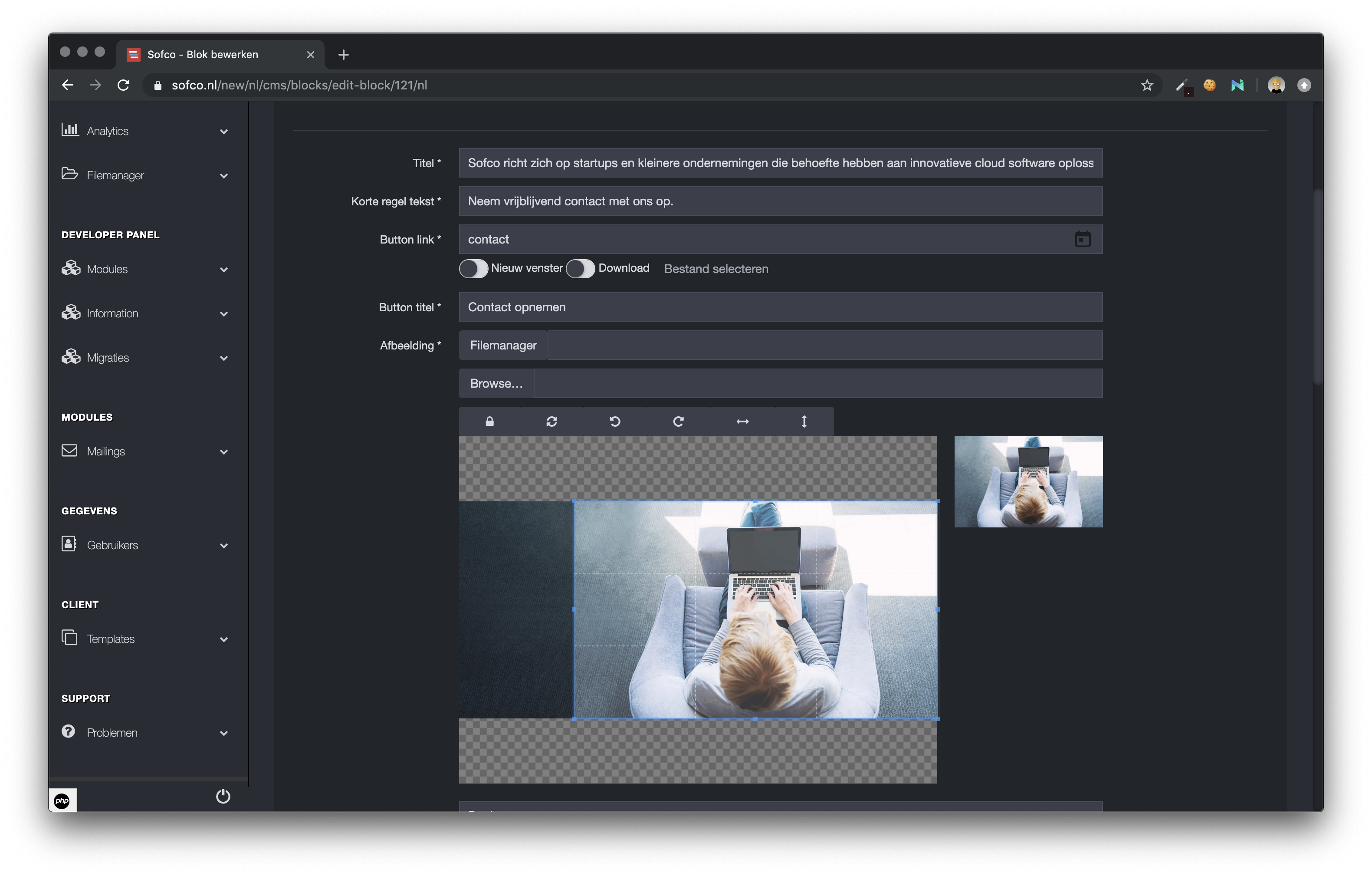 Meet Sofco CMS
Easily and limitlessly manage your website, add your own pages, set up pages with a choice of more than 200 templates in your own house style, set up and add forms yourself, upload large amounts of photos, files and folders, adjust photos in format and / or even edit them . With modules such as an automatic translation module, available in more than 100 languages, automatic resizing of photos, digital magazine module, mailing module and much more ... It is now all within reach.

Read below what the new Sofco CMS has to offer for your company.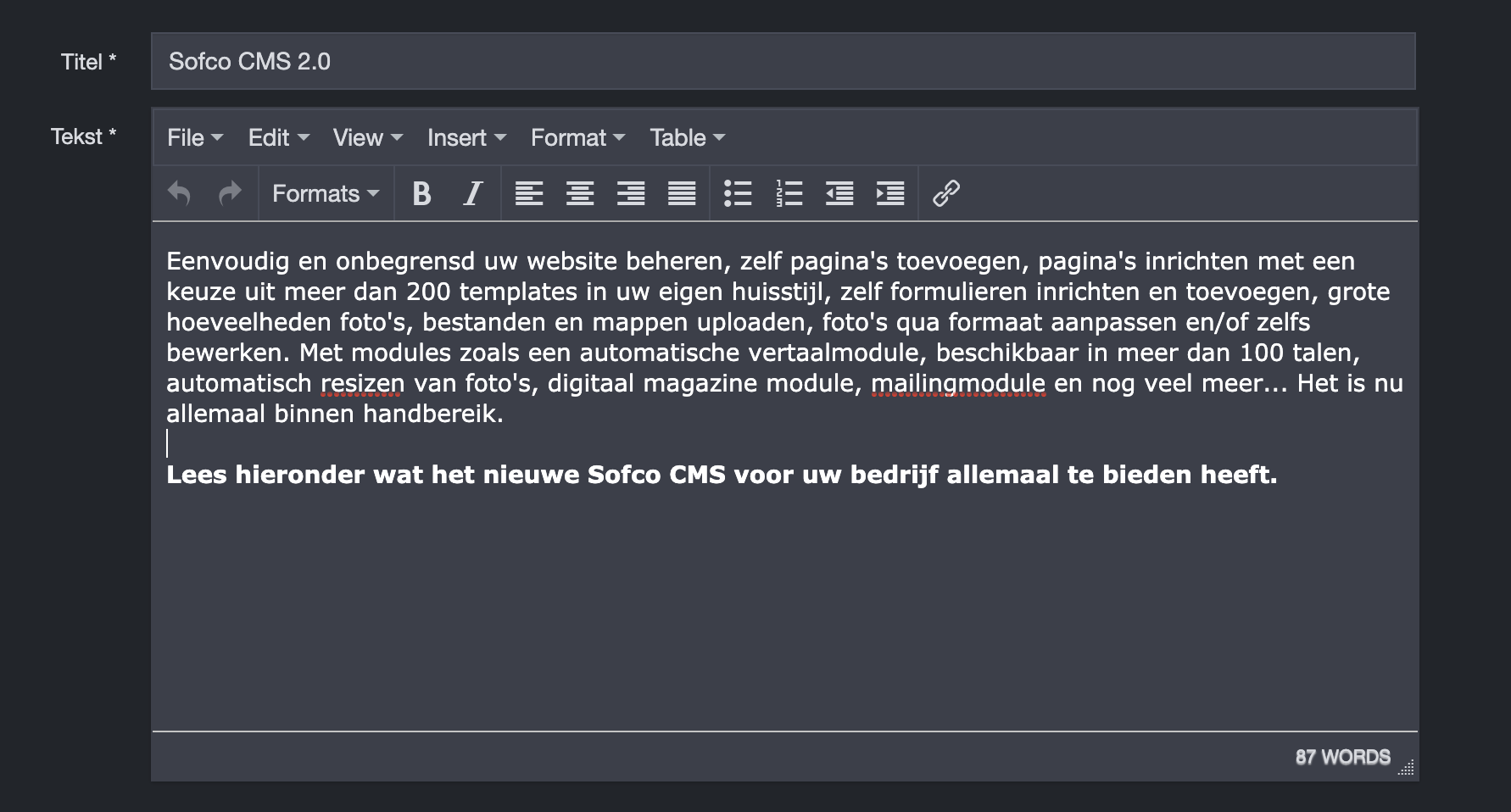 Create beautiful content with the advanced text editor
With the handy text editor you can easily edit your content, as you are used to in Microsoft Word or Apple Pages. The visual editor is a WYSIWYG editor. WYSIWYG stands for "what you see is what you get", which means that everything on your website will look like this when you see it in the editor. With this text editor you can place links, images and (youtube or Vimeo) videos in your content.
Create beautifully designed interactive forms yourself
Whether it's a quote request, a poll, a survey, a quiz or a simple contact form, you can now create your own forms with the form editor in Sofco CMS and add them within a page on your website. By simply dragging and dropping a form template you can arrange any form as you wish.
Select photos or files from the file manager and edit them
Editing and placing images on your website is child's play. You open the file manager, select the image you want and adjust it with the handy editing tool.
Choose from more than 200 templates
Sofco CMS offers you the choice of more than 200 templates with which you can organize your pages. You can preview a template of each template before you start processing it in your website.

Did you know that the Sofco website that you are viewing is also fully equipped with the Sofco CMS maintenance system.
Every page you visit is decorated with different templates that are also available to you.
Url friendly and SEO technically optimized
Sofco CMS is SEO technically optimized for search engines and fully manageable per page for each language.
Make adjustments directly in your website with live management
With Live Management you can change the templates in your pages directly in your website, delete them, clone a template or add new templates.
Filemanager with drag & drop uploading
Sofco CMS offers a handy file manager with which you can upload files, images and videos in a way that you are used to and then process in your website. Upload files with a simple drag & drop from the explorer of your PC or the finder of your Apple iMac or Macbook. The file manager has been developed according to modern web standards but is also compatible with older browsers. After you have uploaded your files to the file manager, the file manager automatically creates thumbnails of all uploaded images, videos and audio and / or PDF files. You can still edit images in the file manager with a handy image editor.
Style your own Google maps
Create your own Google maps maps for your website and style them very easily using Snazzymaps.com styles.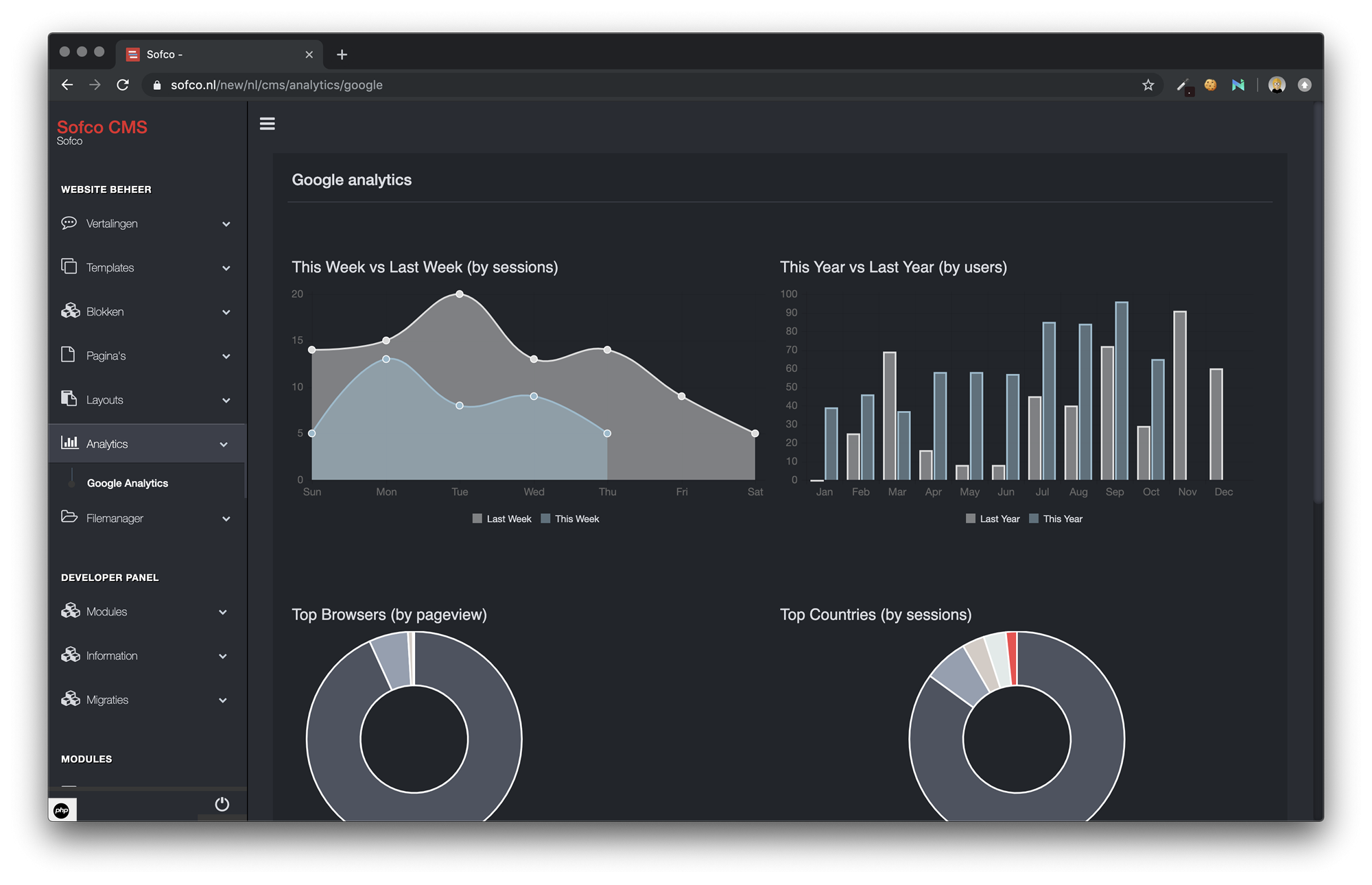 Stay informed of the traffic on your website
Of course you want to know what the traffic is on your website. With Sofco CMS you don't have to log in to Google Analytics every time . Google Analytics is integrated in Sofco CMS so that you can easily and quickly view the traffic on your website.
Manage your website via desktop, laptop, tablet or smartphone
Sofco CMS is naturally responsive and adapts to any type of device regardless of the resolution. You can manage your website wherever you are, whenever you want, via any type of device. You only need an internet connection.
Request a free quote
Have we aroused your interest? Request a free quote!
Request quote