The technique
Get to know the technology behind Sofco CMS 2.0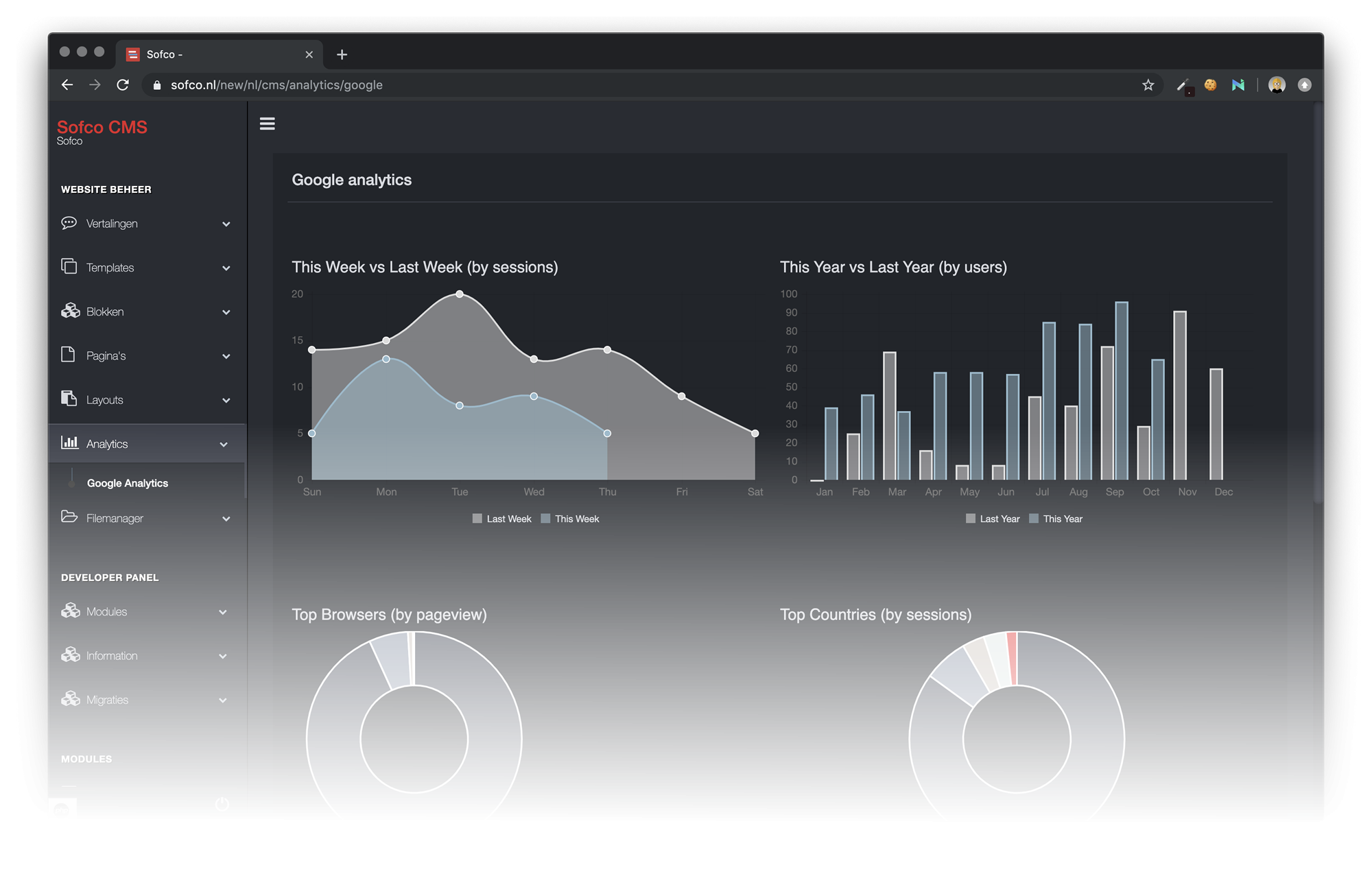 Advanced, expandable and cost-saving
The Sofco CMS 2.0 is equipped with the latest technologies. On this page we want you to take a look at the technology that lies behind our software and explain why we have chosen certain techniques that are cost-effective for your company and are advantageous for your website and possible extensions in the future.
Sofco develops software using PHP
Sofco develops software using PHP code. Why PHP? We have various reasons for this. The first and most important reason is that we understand this. Over the past 20 years, Sofco has developed websites and applications for many companies and has gained a lot of experience.

Another important reason are the costs for hosting. For example, ASP.NET codes must be executed on a Windows server with an IIS server installed. As a result, many companies and developers must purchase both components to run the ASP.NET. This can be an expensive option for companies. PHP runs on a Linux Server that is available on Sofco's servers and is less sensitive to malware.

PHP offers a huge standard library and due to the popularity of php there is a large community with information from PHP programmers around the world. PHP is currently used for 79% of all websites worldwide (source: W3Techs.com ). In addition, PHP has a very flexible and scalable database connectivity.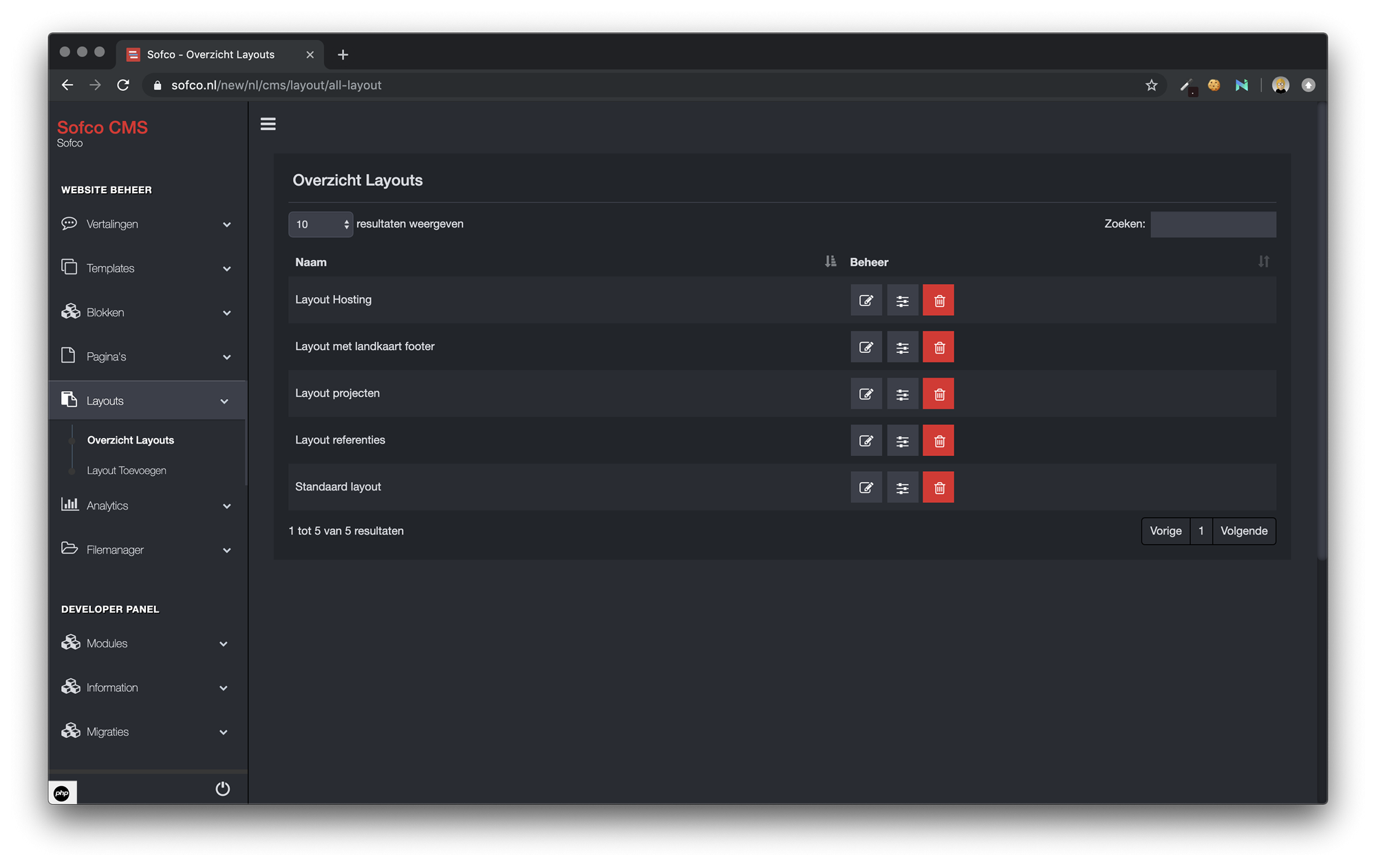 Applications that Sofco develops are stable, reliable and easy to expand
Sofco has developed its own framework based on PHP and has combined its own code with existing PHP frameworks such as Symfony and Laravel. Symfony and Laravel are a set of PHP components, a web application framework, a philosophy and a community that all work together in harmony. The code with which such a framework has been developed is known as beautiful, simple and legible code. This makes applications that Sofco develops stable, reliable and easy to expand. The code of your website is therefore better structured, making it faster and a lot easier to maintain.
The Framework
based on MVC
The Sofco framework has been developed based on MVC. Model-View-Controller (or MVC) is a design pattern that divides the design of complex applications into three units with different responsibilities: data model (model), data presentation (view) and application logic (controller). Separating these responsibilities promotes readability and code reusability. It also means that, for example, changes in the user interface do not directly affect the data model and vice versa. This means that a lot of time and money can be saved on programming and the expansion of functionalities. For more information see: Software based on MVC. Speed & SEO ranking
The advantages are mainly in the 'lightness' of the Sofco framework and thus the speed that is gained with it. You experience speed, for example, in the development of your application and also the performance of your web application or website. The lighter and better the code, the faster the application will work and the easier it becomes to manage it. This naturally has a direct positive influence on the costs of custom software development by Sofco.

Speed has always been an important part for search engines such as Google. Since a few years, the speed of websites has been an important factor in search engine optimization (SEO). Faster loading times ensure that your website appears higher in the search results. Now that Google has announced predicting the loading speed of websites for its users, this will become an even more important ranking factor than ever before.
We work with Git for centralized version management
Git helps us design, develop and securely manage code and project data from a single distributed version management system to enable rapid iteration and delivery of business value. Git repositories provide a scalable, single source of truth for project collaboration and code that allows us to be productive without disrupting our workflow. Git helps us to improve cycle time from weeks to minutes, reduce development costs and time-to-market while increasing productivity.

Version management with Git is of great importance in the development of complex software and makes it very easy to create and merge branches. For example, we develop software in a development version that is eventually pushed to the master, or the live environment of your website, via an automated deployment.

Request a free quote
Have we aroused your interest? Request a free quote!
Request quote