Sofco CMS 2.0 Documentation
This documentation is intended for users of the Sofco CMS 2.0 maintenance system for managing websites and online applications. This manual explains how to use the various functionalities that the system offers. Here you will find information about the operation of the file manager, templates, blocks, layouts, pages, modules and much more.

If you have questions or if the answer to your question is not listed in this documentation, we would like to hear from you so that we can expand the documentation and share it with other users of our software.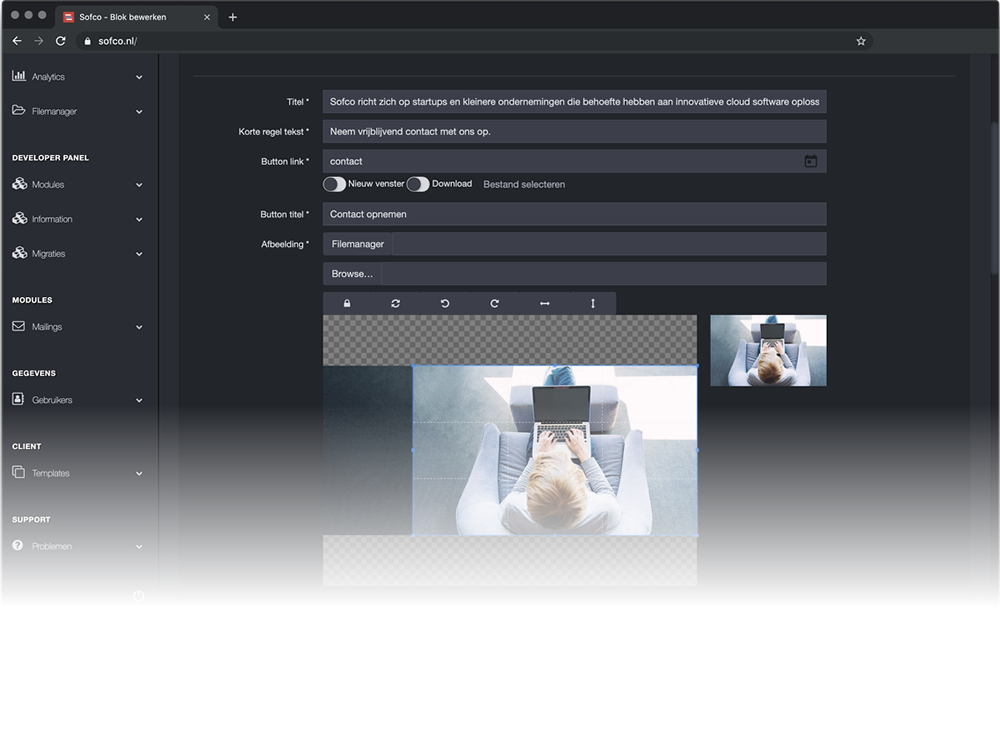 © Copyrights
The software is owned by Sofco and is protected by copyright laws and international copyright treaties, as well as by other intellectual property laws and treaties.
Sofco retains all rights that have not been explicitly and in writing transferred. The user must treat the software as the user treats any other product that is copyrighted. A backup will be saved by Sofco for you in case of an emergency, and may then only be installed by Sofco which includes a fee to be determined by Sofco.
The user may not 'reverse engineer' (decompile), decompile or disassemble the software, unless this restriction violates applicable mandatory law.
The program code, files and functionalities generated with the software may not be changed, unless this is done with a function included in the software.
The user is not permitted to remove or change any indication regarding copyrights, brands, trade names or other intellectual or industrial property rights from the software or blocks.
See also the general terms and conditions stated on Sofco.nl .
© Copyright | All rights reserved Sofco.nl